Happy Nurses week to all my favorite nurses. After the success of last year's giveaway, we are back with the 2020 Nurses Week Giveaway and Freebies. Did you know that 2020 has been named The Year of the Nurse? Even with COVID-19 trying to rob us of the spotlight, so many companies are stepping up with some great deals and freebies for nurses. Not only for nurses week but even now.
If you need Ideas for Nurses Week it is not too late to do something special for those nurses in your life.
2020 Nurses Week Giveaway and Freebies!
This list will be updated with more freebies and discounts. Be sure to check back often and get ready to enter the giveaway starting May 1st.
Nurses Week Freebies and Discounts
To share joy among the millions in the medical community, and to show gratitude for all they are doing, beginning Monday, March 30, and on every subsequent Monday through National Nurses Week (May 6-12), Krispy Kreme will provide all healthcare workers free dozens of our iconic Original Glazed® Doughnuts. Just go to a Krispy Kreme drive-thru, tell them what you need and show your employer badge. That's it. Pick up some free dozens on the way to work for you and your colleagues, or maybe a free dozen on your way home to family after a long shift.

Limit up to 5 dozen per healthcare worker due to varying production capabilities by location. While Supplies Last.
All Seasons Uniforms is offering a 20% discount on all their scrub and lab coat lines during nurses week, starting on May 6th and ending on May 12th. Use promo code NURSE20.
The ANA is hosting a year-long worth of celebrations including stories, podcasts and videos. Visit their site to see more or submit your own story.
Be sure to score one or all of these free nursing Kindle books.
Checker's and Rally's are offering a free combo meal to healthcare workers during the pandemic. Just wear your uniform to score this freebie.
Long John Silver's is featuring a Wellness Wednesday. Get 10 percent off your order every day of the week and 20 percent off orders on Wednesdays. Just show a valid ID/employer badge to redeem the offer.
Wawa Convenience Stores are giving away a free cup of coffee to all healthcare workers. Show your credentials for your free cup.
Medical staff, law enforcement, military, and firefighters, IHOP is currently offering 20% off orders. Show a valid work ID when you go to pickup your meal to get your discount.
Dollar General is offering a 10% discount to medical workers and first responders. Just show your credentials. It is currently good till April 30th but maybe extended longer.
Fjolk Shoes is giving away a free pair of their shoes to healthcare workers. Send an email together@fjolk.com for any pair of shoes.
Glowforge is giving away EarSavers to ease the discomfort from wearing a mask. Go to the website to request your free pair.
In appreciation and recognition of all medical personnel, first responders, and police, Walgreens is designating April 25 as 'Frontline Heroes Discount Day,' providing 30 percent off regularly-priced Walgreens brands and 20 percent off regularly priced national brand products.

Just present your employment badge or appropriate identification at any of the more than 9,200 Walgreens stores to receive the discount. Restrictions may apply including current quantity limits on certain high demand products.
Enell is offering 50% Off for Healthcare Workers and First Responders. Between now and May 30th they are offering 50% off any bras they carry.
Crocs is giving away a free pair of their shoes to healthcare workers. Just head to their site on Monday, April 27th, and enter your email address to receive your free pair.
McDonald's is giving away free "Thank You Meals" for First Responders and Healthcare Workers. Stop by McDonald's from 4/22 – 5/5 and they will take care of the rest. Show your credentials or be in uniform for this deal. You can choose from several breakfasts or dinner combos.
I have never heard of ChiliPAD but it sounds amazing. Kryo Care's one-for-one program will support first responders + healthcare professionals working on the front lines of our nation's COVID-19 response. Simply apply to their program and they'll send a new or certified refurbished chiliPAD if matched with a donor. See their website for more details.
Starbucks is giving free tall brewed (hot or iced) coffee to first responders and front-line healthcare workers through the end of May. Just show your credentials.
Stop by your local Sam's Club on Sundays from 8 am to 10 am for Hero Hours. These Hero Hours will kick off Sunday, April 19 and continue until further notice. All shoppers entering clubs will be provided with a mask for safety.
BJ's has an 'Appreciation Hour' from 8:00 a.m. to 9:00 a.m. on Sundays for first responders and healthcare workers. During this designated time period, first responders and healthcare workers can shop in all of BJ's locations without a membership. BJ's is also offering a free, four-month Inner Circle membership to all first responders and healthcare workers.
First responders and healthcare workers can sign up for their complimentary BJ's membership by visiting the member services desk at their local club. With this membership, first responders and healthcare workers will be able to shop the club during the designated shopping hour and during standard hours of operation at all locations.
Other Nurses Week Giveaways
Be sure to stop by The Nerdy Nurse and enter her Nurses Week giveaway for a chance to win an Eko Stethoscope and more.
2020 FreshRN® Nurses Week Giveaway
I am a huge fan of BadgeBlooms. You can check out my BadgeBlooms review here. They offer Designer ID Badge Reels made for nurses by a nurse. One lucky winner will receive one badge reel of their choice.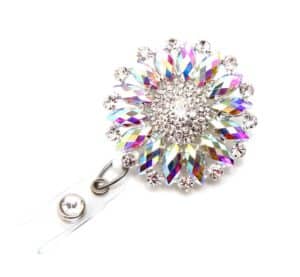 I love that you can display your own personality and style with one of the badge reels all while supporting a nurse. In honor of all nurses during this pandemic you can save 50% off every single item in the BadgeBlooms shop. No promo code needed.
Soothing Scents is a nurse supply company that makes integrative nursing interventions for modern healthcare and happier patients. They will be giving away one nurse rescue kit, valued at $160.00
The kit includes:
A QueaseEASE aromatic inhaler for management of patient nausea and PONV
A STILL aromatic inhaler for management of patient anxiety
A FOCUS aromatic inhaler for energy
Two clippy compact inhalers
Two P6 acupressure DuoBAND wristbands
Eight 72-hour disposable inhaler tabs that address nausea, anxiety, energy, and congestion.
Soothing Scents is also offering a 45-minute, one-on-one Zoom video session to the winner, with their lead nurse consultant, Stephanie Carver, who will speak to the winner about essential oil therapy and answer any questions he/she may have. Stephanie regularly lectures and talks to hospitals across the country on the subject of essential oil therapy.
Soothing Scents first intervention, QueaseEASE, was created as a drug-free nausea management tool for OR patients coming off of anesthesia. Today they provide additional management remedies for anxiety, fatigue, and congestion, to help improve the hospital experience for patients. All products and delivery systems are based on inhaled essential oil therapy, a practice that we offer free training in for all registered nurses. They currently supply over 2,000 facilities in the U.S. You can learn more and shop online at www.soothing-scents.com
All first-time shoppers can get a 15% welcome discount to Soothing Scents by signing up on their website. They also offer an amazing ANCC-accredited online nursing course on the use of therapeutic inhaled essential oils for patients — the first of its kind — which is free for all RNs.
Madison Supply makes trauma shears. Now before you tune out, know that these are the highest quality, most reliable shears available for less than $40. One winner will get "shears for your whole shift", or two 5 packs of shears.
Madison Supply said they aimed to hit the sweet spot where people can love them for their durability for a LONG time, but if they "walk-off" during a shift it won't break the bank to replace them. You can save 15% off your order using the promo code freshrn at Madison Supply.
One lucky reader will win enrollment into my New Nurse Masterclass.
The FreshRN® New Nurse Master Class is concise, honest, practical, and real. It is the answer to every single burning question I had as a new nurse, and answers to questions I didn't even know I should be asking. Like, How do I emotionally disconnect from the bedside? How should I eat while working shift work? and so much more. I sat down with multiple healthcare professionals to provide you with the insider information new nurses are desperate to learn – like what level of skill does leadership expect of newbies, how to master nursing reports, and navigate emotionally-charged situations like the leader everyone expects the nurse to be.
One winner will receive a Google Nest Mini!
The Nest Mini plays your music and puts the Google Assistant just a voice command away.
a Rafflecopter giveaway