Happy Nurses week to all my favorite nurses. After the success of last year's giveaway, we are back with the 2021 Nurses Week Giveaway and Freebies. So many companies are stepping up with some great deals and freebies for nurses. We've also partnered with some AMAZING sponsors to bring you an incredible giveaway!
The theme for this year was announced by the International Council of Nurses as Nurses as Nurses: A Voice to Lead.
"This global COVID-19 pandemic has shown the world the important role that nurses play in keeping people healthy across the lifespan," said Annette Kennedy, ICN President. "While there has been significant disruption to healthcare, there has also been significant innovation that has improved access to care. In 2021, we will focus on the changes to and innovations in nursing and how this will ultimately shape the future of healthcare."
Nurses Week 2021 Giveaway and Freebies!
This list will be updated with more freebies and discounts. Be sure to check back often and get ready to enter the giveaway starting May 1st.
Nurses Week 2021 Freebies & Discounts
Typically Nurses Week is full of all kinds of amazing Freebies and Discounts just for nurses. Be sure to check back often as this list is being updated as new discounts and freebies become available.
New or existing Verizon customers can sign up for the ongoing 'Those Who Serve' unlimited pricing. Wireless unlimited plans start as low as $30/mo per line for four lines, and Fios 200Mbps internet as low as $34.99/month.
Nurses can save 10% off a new Purple Mattress.
The pandemic has been hard on everyone, but it is our healthcare and public protection front-liners who put in so much hard work, even sacrificing rest days and quality time with their loved ones just to ensure that civilians are protected at all costs. As a way of expressing their gratefulness for all your service and going above more than necessary during this pandemic. Take 15% off storewide, with no minimum purchase, valid until Dec 31, 2021.
Get 25% off the entire Heroes Collection.
Caesar's Rewards values the courage and sacrifice of nurses. That is why Caesars Rewards and ID.me have proudly partnered to provide year-round discounts up to 35% off on hotel reservations made online by these heroes who verify their identity through ID.me.
The Heroes Discount gives you 10% off. Outback celebrates all nurses, doctors, medical staff, military veterans, servicemen and women, police, firefighters and first responders with 10% off* their entire check all day, every day (with valid medical, state or federal service ID).
As always, Amazon has a bunch of books for nurses for free. Get everything from Fast Facts for the Nurse Educator to Night Shift: 10 Survival Tips for Nurses to Get Through the Night!
Nurses can save 40% off their purchase of full priced products at Asics. Just verify your status with SheerID and you will receive a one-time use promo code.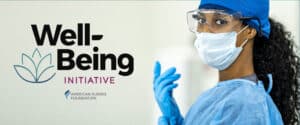 Join the Well-Being Initiative from the ANA. Every day, nurses experience extraordinary stress and other impacts on their mental health and wellness.
The Well-Being Initiative offers free tools and apps to support your mental health and resilience.
All Seasons Uniforms is offering a 20% discount on all their medical apparel, including scrubs, lab coats, protective coats, cleanroom clothing, and more. Just use discount code NURSE20 to save 20% off your purchase during nurses week only.
In honor of Nurses Week 2021, Clove is gifting free compression socks (a $22 value) with each purchase of sneakers! Simply add shoes and socks to your cart, then use code NURSESWEEK2021 at checkout!
Other Nurses Week Giveaways
Self Care Isn't Selfish Contest. Show your fellow nurses how you practice self-care by submitting a photo by May 12 to Cross Country Nurses' Facebook or Instagram page. You could win a $500 gift card if your entry is chosen.
The Nerdy Nurse has a huge giveaway going on this year. Win prizes from Eko, Sanita, KEEN, and more.
BAYADA Home Health Care, a leading global not-for-profit provider of in-home health care and support services, is kicking off its Nurses Week (May 6-12) celebrations—designed to recognize nurses for their heroism—a bit earlier this year, by hosting a "What's Your Wish" giveaway on NursesWeek.com, where they will randomly select 50 nurses to win a prize kit.
Starting on April 29 and lasting through Nurses Week, nurses who visit the website can enter to win one of five nurse-curated themed kits. The kits were developed based on a survey of many BAYADA nurses who were asked what they would wish for to bring them joy and make their lives easier. Each kit contains activities and gifts to plan the perfect staycation, run a smart home, and enjoy tranquility time, among other themes. BAYADA's NursesWeek.com also offers health care professionals access to online expert speaker sessions, panel discussions, podcasts, and more, including a menu of virtual courses for which nurses can earn up to seven Continuing Education (CE) credits for free.
BAYADA's Nurses Week efforts are part of a larger initiative and commitment to recruit and retain nurses who share the organization's vision of delivering care with compassion, excellence and reliability. In fact, BAYADA offices will also be celebrating and honoring their nurses at the local level in varying ways, such as through raffles, free meals, special gifts, virtual events and more.
Nurse Registry is giving away 1x $200 Amazon.com gift card, 2x $100 DoorDash gift card, 3x $75 Spafinder gift card, DavidsTea Relaxation Kit and Tumbler. Follow the link above to enter.
Our Nurses Week 2021 Giveaway
There are more giveaway items coming soon! Keep checking back to find out what you could win and enter the giveaway starting May 6th.
I am a huge fan of BadgeBlooms. You can check out my BadgeBlooms review here. They offer Designer ID Badge Reels made for nurses by a nurse. Ten lucky winners will receive one badge reel of their choice. You can also use code BLOOMSNURSEWEEK21 to save 50% off from now until May 12th.
One nurse will win a bag of Original Medium Roast and a bag of Vanilla Bean Bourbon-Infused Coffee.
Fire Department Coffee, is a coffee company that is run by firefighters. They donate 10% of net proceeds to help first responders who are ill or injured, mentally or physically, through our Fire Department Coffee Foundation. As a company that supports first responders, they wanted to do something special to celebrate nurses and all that they do for us every day.
Starting on May 6th, they are giving customers the option to add a donation at checkout to support the ANA's #EndNurseAbuse campaign, focused on raising awareness and helping health care organizations establish protocols for the prevention of nurse abuse and the proper response to any such incidents of violence against nurses.
Use promo code NURSE15 to save 15% off your purchase the entire month of May.
Symptom Media is an online mental health continuing education and training film library available via subscription streaming. Three nurses will win subscriptions to Symptom Media and their mental health training courses.
Co-founded by brothers Andrew and Matt Rubin, Symptom Media started as a partnership between film professionals and mental health clinicians with the mission to fill a critical gap in mental health education. Recognizing the need to de-stigmatize and show what mental health issues actually look like, Andrew and Matt's film and business experience fused with mental health clinicians to launch Symptom Media. They have a DSM 5 & ICD 10 Guided Film Library and ANCC & ACCME accredited mental health continuing education course collection. Use code FreshRN to save 25%.
One nurse will win enrollment into a Confidence Accelerator e-course and a 30-minute 1:1 coaching session from Catalyst for Self Care.
Diana from @catalystforselfcare is your go-to resource for all things burnout prevention, nurse wellbeing, and how to leave work at work and live a life you truly love outside of your role as a nurse/NP. She is a neurology NP, nurse mentor, mom, and burnout survivor. She is committed to providing this community content on topics related to burnout and nurse wellbeing with easy actionable tools to help you keep burnout at bay, gain energy and confidence, and navigate workplace challenges. She is a firm believer that "self-care" includes things like boundary setting, self-advocacy, using your voice, being a leader, and putting yourself and your needs at the top of your to-do list. Diana focuses on a holistic approach to burnout prevention which empowers nurses and NPs to truly believe they are humans first, nurse second. She hopes that her content and mentorship inspire you to live a life you love outside of your job! For tons of free resources, support, empowerment, mentorship, and inspiration go check out her IG page and follow along! She is very accessible, her page and DMs are a safe space and you can reach out with questions anytime.
5 nurses will win a nurse appreciation box valued at $100 each.
Medthreads is a brand new scrubs subscription box service. Medthreads quarterly subscription box delivers new scrubs and essentials you need to be your best on the job. Each box has a pair of our SmartFit Scrubs® made for health care professionals by health care professionals that are sustainably and ethically made along with a curated selection of the essential things you need to help your shift run smoother and some self-care items to treat yourself post-shift
The subscription boxes launch in July of this year. Be sure to sign up now to get on the wait-list so you are notified when the subscription boxes launch.
Three nurses will win one pair of their choice of shoes from BALA (excluding the limited edition color).
Did you know that most shoe companies take a design using male foot morphology and simply shrink that down for women's shoes? BALA is taking a Her First approach, using female foot morphology. This means a better design from the ground up, made just for a woman's feet. BALA Footwear started out by trying to see what a 12-hour shift for nurses really looked like. The sitting, standing, sprinting, and – the fluids. So they met with hundreds of nurses across the United States and then listened to them. When they thought they had all the answers, they made a shoe and handed it to nurses, and asked more questions. The end result is a shoe that has a water-resistant upper, high traction outsoles made with hospital floors in mind, arch support, and more. I think you are going to love these shoes.
Two nurses will win enrollment into this course for free. Valued at over $500 each!

Meet Dr. John, DNP! Dr. John is an aesthetic nurse injector whose passion is to help nurses to utilize their medical skills to gain financial and professional independence through becoming a cosmetic nurse injector. To help you get started, Dr. John has created a "Getting Started in Injections" course that outlines how nurses can turn their skills into extra income by starting and cosmetic injections side-hustle.

In this course he covers:

Neuromodulators

Business Strategy

Marketing Ideas

Regulations

and more!
Fifteen nurses will win a Nurses Rock! GO-Clip.
The GO-Clip is an adjustable clip system that attaches to nearly any headwear to help pull mask straps off the ears to make wearing a mask more comfortable, safe, and convenient. They are easy to attach and can be used over and over again. Use promo code GONURSES for Buy one, get one free on any Go-Clip of your choosing through May 12th. You can also order on Amazon.
Two nurses will win their choice of shoes from Ponto.
Ponto believes that taking small steps in the right direction adds up to make a big difference. They made the first dress sneaker (yes, it's a thing). Simply put, they are shoes made better. Made almost entirely from recycled materials, their first silhouette looks like work and wears like leisure. The shoe bottoms feature a bio-based foam that is the world's first plant-based foam produced with algae biomass and the shoe uppers are constructed using recycled leather. All Ponto shoes are comfortable, easy to clean, look like a work shoe but feel like a leisure shoe.
Nurses are central to the frontline response and care efforts for the Coronavirus Disease 2019 (COVID-19) pandemic and as the most trusted healthcare professional, patients and families often rely on you to talk about their stress, anxiety and seek support for their decisions. We recognize that sometimes the hardest work you do is talking about and being with patients and families who are suffering. Offering resources for improving and learning about communication strategies, we offer two books that include tools for communication in nursing care: Caring for the Family Caregiver and Communication in Palliative Nursing ($100 value).
One nurse will win enrollment into the Fresh RN Cardiac Nurse Crash Course, a $97 value.
Receive a patient from the cath lab with ease, confidently address the patient who flipped into atrial fibrillation with rapid ventricular response, and care for chest tubes like a pro. This course is for newbies to cardiac to help you build a focused foundational cardiac knowledge – concise information you need to be successful at the bedside, and not feel like you're drowning.
This content is applicable to adult patients in the emergency department, cardiac intensive care, stepdown, and cardiac nursing floor.
Over 70 modules with text, videos, images, and downloads
Written by two nurse educators [one is a CV-surgery NP] and an emergency department nurse – and all are nationally certified!
Topics like chest tube and arterial line care, cardiac nursing report for the ED/ICU/floor, CABG patient care, in-depth discussion on atrial fibrillation, diagnostics like stress tests and caths, and practical explanations of important concepts like CO, CI, SV, SVV, and much more.
It is a self-guided online course – you get lifetime access once purchased!
Download the free Teachable app to easily access this course on mobile
One nurse will win a signed copy of Anatomy of a Super Nurse.
Anatomy of a Super Nurse: The Ultimate Guide to Becoming Nursey No matter how hard you've studied, stepping into that first nursing job is unlike anything you've ever experienced. For students and recent graduates looking to conquer the challenging transition from stressed-out student to nursing professional, Kati Kleber's got you covered.
Acclaimed blogger and author of Becoming Nursey: From Code Blues to Code Browns, How to Care for Your Patients and Yourself, Kati expands on her guide for new nurses with this revised edition, Anatomy of a Super Nurse: The Ultimate Guide to Becoming Nursey. She provides real-world advice on surviving nursing school and thriving in your first nursing job. Using personal experiences, Kati dives deep into that pivotal first year and answers questions that all new nurses have, but don't always think to ask.
You'll learn to master practical topics such as how to give and receive a good, concise report and what to do in a code. Plus, you'll find tips on time management, stepping into a leadership role, and best practices for sleeping when you're on the night shift.
Armed with tons of information—and lots of laughs—Anatomy of a Super Nurse: The Ultimate Guide to Becoming Nursey shines light onto the dark spots in a nurse's first year, equipping you with everything you need to become a successful bedside nurse.
Enter the 2021 Nurses Week Giveaway
a Rafflecopter giveaway